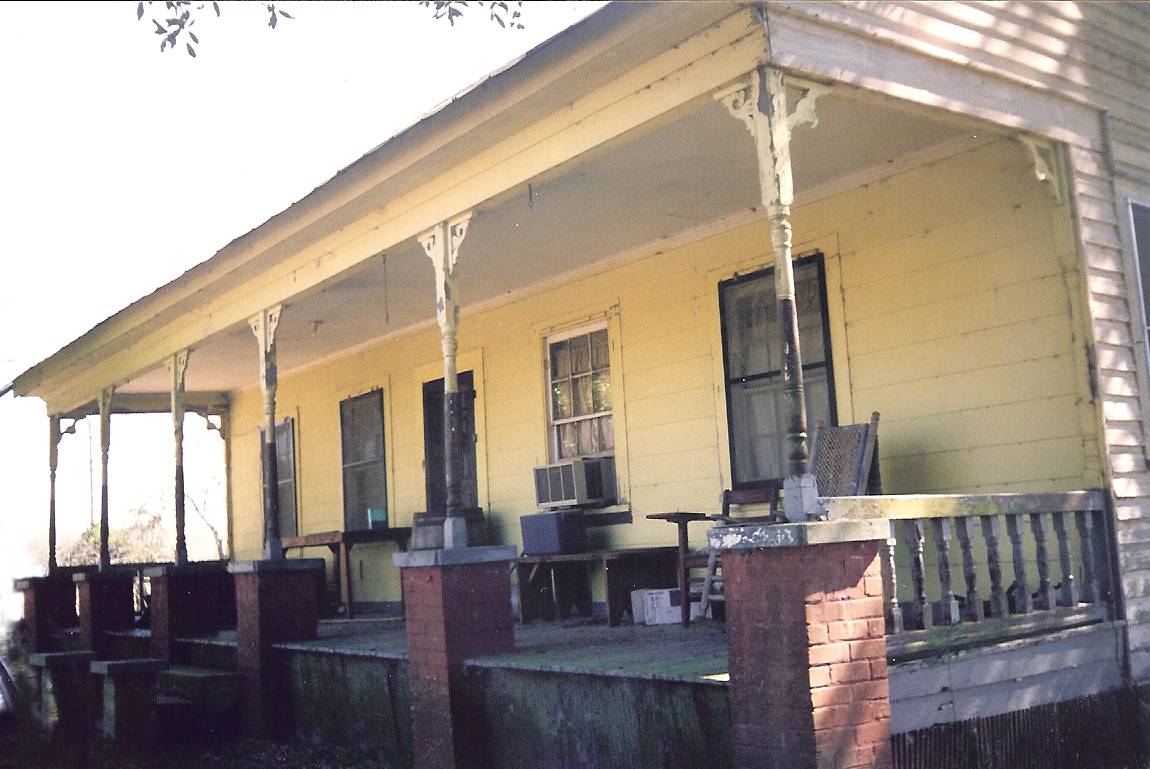 Brown
The photograph, above, is the home of Jasper Pascal Brown in Pike County, MS.
My father was Delbert Keith Brown & my paternal grandfather was Roy Jessie Brown, hence my connection to the Brown surname. The difficulty in searching through records for this name is probably obvious. It is very common. If you couple it with a common first name, such as James, you will find a long list of James Browns. To add to this difficulty the Browns married the Smiths. Are there more common surnames in the USA? Some of the other surnames entwined with the Browns are: Fortenberry, Dillon, Kennington, Spurlock,  and Smith.
The first generation of the Brown family line may be Hardy and Patience Brown who lived in Edgecombe County, North Carolina. They might be the parents of Edward Brown, born circa 1730. There is evidence of Edward Brown living in Edgecombe County in the mid 1700s and Edward named one of his sons Hardy. These facts seem to point to Hardy and Patience as Edward's parents but with a name as common as Brown it is best to have more proof of the connection before claiming this as a fact. Until Hardy & Patience can be connected, Edward Brown appears as our primary ancestor.
Read More About
Selected Sources
Aiken, Nancy Bryan. Minutes of the Jones County North Carolina Court of Common Pleas and Quarter Sessions 1826 – 1841. Bowie, MD: Heritage Books, Inc., 2002. FHL 975.621
Arnold, Jr., Stanley W., and Louise Anderson. Marion Co, MS Cemeteries. 2nd Printing. North Little Rock, Arkansas: Custom Printing, 1988.
Clemens, William Montgomery. North and South Carolina Marriage Records from the Earliest Colonial Days to the Civil War. New York: E. P. Dutton & Company, 1927.
Gwynn, Zae Hargett. Abstracts of The records of Jones County North Carolina 1779 – 1868. I. Memphis, TN: Zae Hargett Gwynn and Henry Norburne Gwynn. FHL 975.621
Hagenesss, Marilee beatty. Georgia Genealogical Sources. Anniston, AL: MLH research, 1997. FHL 975.8733
Haymon, Serena Abbess. Pike County, Mississippi School Census, 1878.  Greenwell Springs, LA.
Haymon, Serena Abbess. Pike County, MS School Census, 1885.  Greenwell Springs, LA.
Haymon, Serena Abbess. Pike Co, MS School Census, 1890.  Greenwell Springs, LA.
Haymon, Serena Abbess. Pike Co, Mississippi School Census, 1900.
Haymon, Serena Abbess. Pike Co, Mississippi School Census, 1912.
Haymon, Serena Abbess. Pike Co, Mississippi School Census, 1920.
Haymon, Serena Abbess. Pike Co, Mississippi School Census, 1933.
Ingmire, Frances T. Liberty County, Georgia Marriage Records 1780 – 1860. St. Louis, MO, 1985. FHL 975.8733
Jarrell, Lawrence E. Early Orangeburgh South Carolina Census. High Point, North Carolina: Alligator Creek Publications, 1998.
Kammerer, Roger E. Onslow Register Records of Onslow & Jones County Citizens and Related Families. II. 1988.FHL 975.62
Marion County Historical Society, First. History of Marion Co, MS. Marceline, Missouri: Walsworth Pub Co, Inc. FHL 976.221
Perrin, W. H., & Battle, J. H. (1880). History of Logan county and Ohio: Containing a history of the state of Ohio … a history of Logan county … biographical sketches; portraits of some of the early settlers and prominent men .. Chicago: O.L. Baskin & Co.
Teeples, G. Ronald, Ronald Vern Jackson, and Richard Moore. South Carolina 1800 Census. Provo, Utah: Accelerated Indexing Systems, 1973.
Upton, Mrs. Robert Chester. Marriage Records Marion Co, Mississippi 1812 – 1860. 1958.FHL 976.221
Williams, E. Russ. Marion Co MS Miscellaneous Records, 1812 – 1859. Easley, SC: Southern Historical Press, 1986.FHL  976.221
Williams, Jr., E. Russ. Abstracts of Deeds Marion Co, Mississippi. 1962. FHL 976.221
Williams, Jr., E. Russ. Orphan Court Records 1812 – 1859 Marion Co, Mississippi. Bogalusa, LA: 1962. FHL 976.221
Williams, Jr., E. Russ. Records of Marion Co, MS. 1965. 3. FHL 976.221
Websites