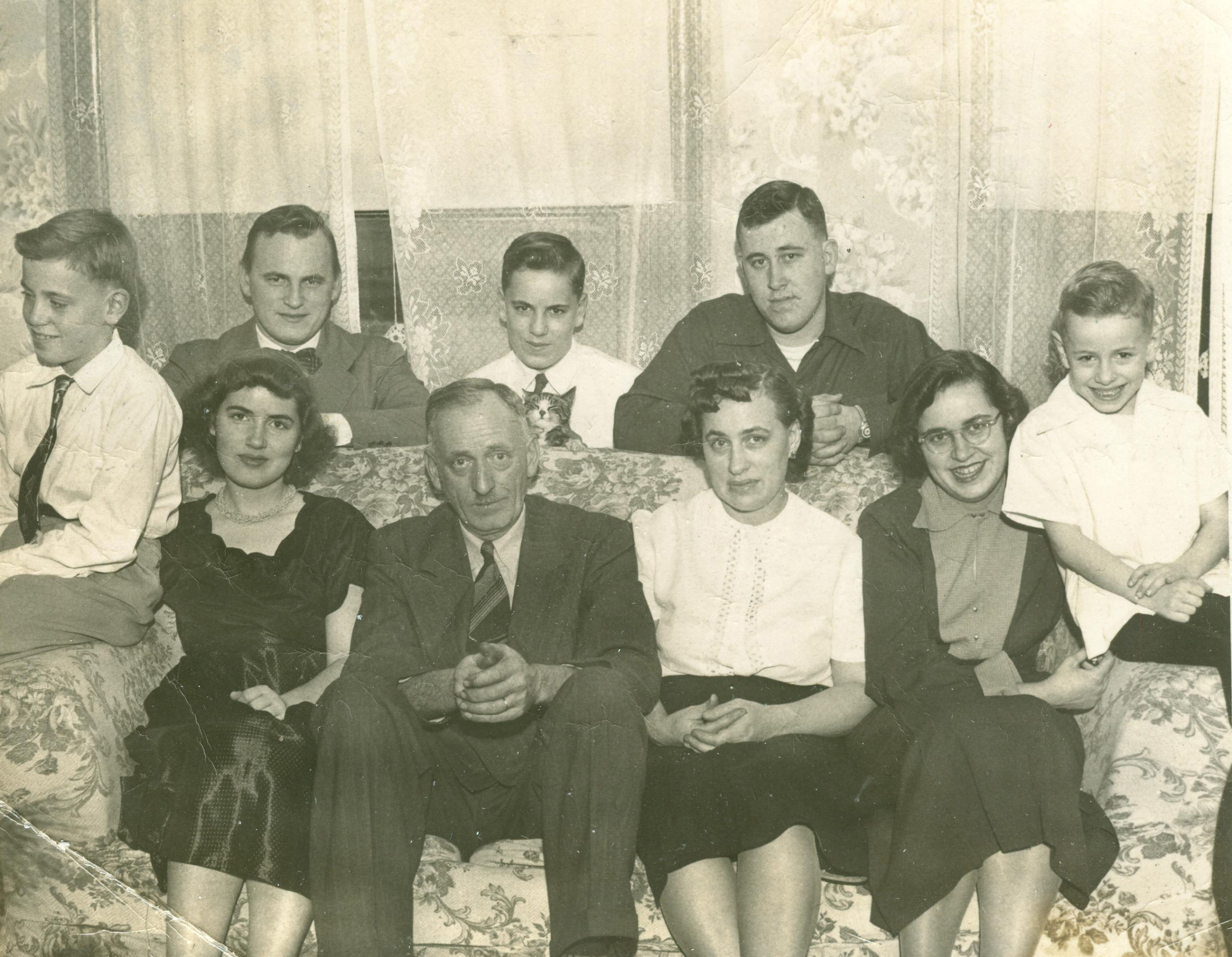 Roy J. Brown 1902 MS – 1956 MS
The photograph, above, is the Roy & Ivy (Mark) Brown family in NY. Date unknown.
Roy Jessie Brown was born 8 March 1902 in Pike County, Mississippi [son of Jasper Pascal Brown & Rose Ella Brumfield].
Roy was one of 9 children of Jasper Pascal Brown & Rose Ella Brumfield. He was born in Osyka, Pike, MS. In 1910 his father was a farmer on a 'home farm.'   In 1920 Jasper, Rose and children were in the Simmonsville Precinct of Pike Co., MS. Jasper owned his farm. Four children were still living at home.
Roy's first wife was Mary Thelma Ellzey, daughter of William S. Ellzey & Amanda Adarene Fortenberry.  They had a daughter. Roy left MS and headed north to OH. On 2 August 1927, in Medina County, Ohio, he married Ivy Regina Mark [daughter of Thomas Kenneth Mark & N. Regina Gruissy]. Roy & Ivy had seven children. In 1941 Roy moved his family to Columbia Co., NY where he worked for two mills. Roy died 12 May 1956 in Magnolia, Pike County, Mississippi.
A newspaper clipping from a newspaper in Hudson, New York has an obituary for Roy:
"Roy J. Brown, formerly of Stockport, died Friday in Tylertown, Miss., where he had been spending the winter with relatives. The funeral was held there Monday with interment in Tylertown. Mr. Brown, 54, was a native of Tylertown. He had been a resident of Stockport since 1941 and had been employed at both the Stockport paper mill and Bonafide Mills. He was a member of the Stockport Fire Department. Survivors include his wife, who resides in Cobleskill; five sons, Delbert of Germantown, Leo of Schenectady, Larry of the United States Army, Robert and William of Cobleskill; two daughters, Mrs. Carlton Wieland of Hagman and Mrs. Elmer  Sparks of Cobleskill; four grandchildren; several brothers, sisters, nephews and nieces."
Selected Sources:
1920 U.S. Census, Pike Co., Mississippi; 1920; Vol 48, ED 99, Sheet 6 Line 61; National Archives, Pittsfield, Mass., M1570 Roll 14 (Soundex) T625 Roll 891 (Report). Jap P. Brown & Rosa & 4 children living in Simmonsville Precinct
1930 United States Census, Rittman, Wayne County, Ohio, Roll 1888, Page 28A.  ED 23.  Roy J. Brown and family.
1940 US Census, OH, Wayne, Rittman, SD 16, ED 85-29, Sheet 15A. Roy & Ivy Brown family on 53 Grant Street.
Certificate of Death; 1956; Mississippi State Department of Health, Vital Records; 7729. Roy Jesse Brown, died 12 May 1956 in Mississippi.