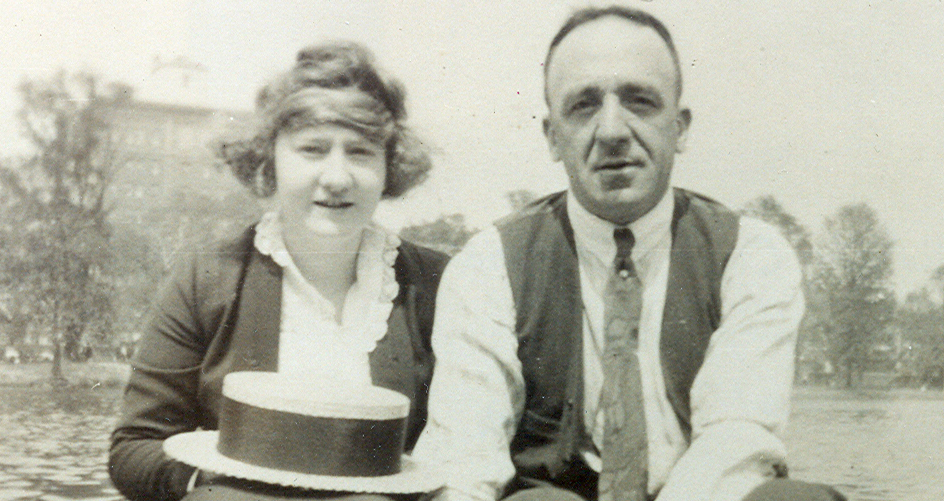 Helen (Coyle) Gardner, 1897 Ny – 1965 NY
The photograph, above, was taken c 1920 in Central Park, New York City. Helen Coyle & Nathaniel Gardner were in a row boat on the lake. 
Helen Frances (Coyle) Gardner
was my mother's mother, my Nana. She was born in
New York
City on 9 January 1897, daughter of
Michael
&
Mary Josephine (Mullane) Coyle
. Helen was the oldest of seven children. Her siblings were: Francis, Marion, Marguerite, Thomas, Lillian & Kathleen.
Helen found a job at the Western Union Telegraph Company where she worked for several years. It was there that she met her future husband. On 9 May 1921 she married
Nathaniel Gardner
, son of
Leopold Gartner
& Fannie Edelsein. They were married in New York City where they lived until November 1940.
 They had one child, a daughter named
Alberta Joy (Gardner) Brown
.  In 1940 the Gardners were living at 2856 East 197
th
 Street in the Bronx. Nathaniel was still working at Western Union, Helen was at home and Joy was going to school. Later that year they bought a house in Columbia Co., NY. Nathaniel died 7 December 1944. Helen died 13 October 1965. They are buried in
Germantown
, NY.
Selected Sources:
Marriage Certificate for Michael Coyle and Mary J. Mullane, 9 November 1895, Certificate #17416, Bureau of Records, Health Department, New York City; New York City Department of Records and Information Services, Municipal Archives, 31 Chambers Street, New York City, New York, 10007.
Certificate and Record of Birth for Nellie Coyle, #277, 9 January 1897, New York City Department of Health, State of New York. Helen Coyle
1900 United States Census, Manhattan, New York; Vol. 178, E. D. 930, Sheet 2, Line 72; New York State Library, Albany, New York; Microfilm Box #120.  Michael Coyle family at 159 E 113 Street, Manhattan.
1910 United States Census, Third Avenue, Ward 12, Manhattan, New York City, New York, S. D. 1, E. D. 330, Sheets 16 A & B. Michael Coyle family.
1920 United States Census, New York City, New York, Vol. 279, E. D. 1292, Sheet 18, Line 70; New York State Library, Albany, New York.  Michael Coyle family, 223 E 113th.
Public School #168, Manhattan Diploma for Helen Coyle, 27 January 1914, Department of Education, The City of New York.
1930 United States Census, Bronx, New York, Microfilm Roll #1476, ED 3-400, Block N, Page 143, Lines 88 – 90; National Archives, Pittsfield, Massachusetts.  Nathaniel Gardner family living at 1527 Plymouth Avenue, Bronx, New York.
1940 US Census, New York, Bronx, SD 24, ED 3-814, Sheet 11B. Nathan, Helen & Joy Gardner at 2856 E 197 Street.
Family letters, interviews & other family documents