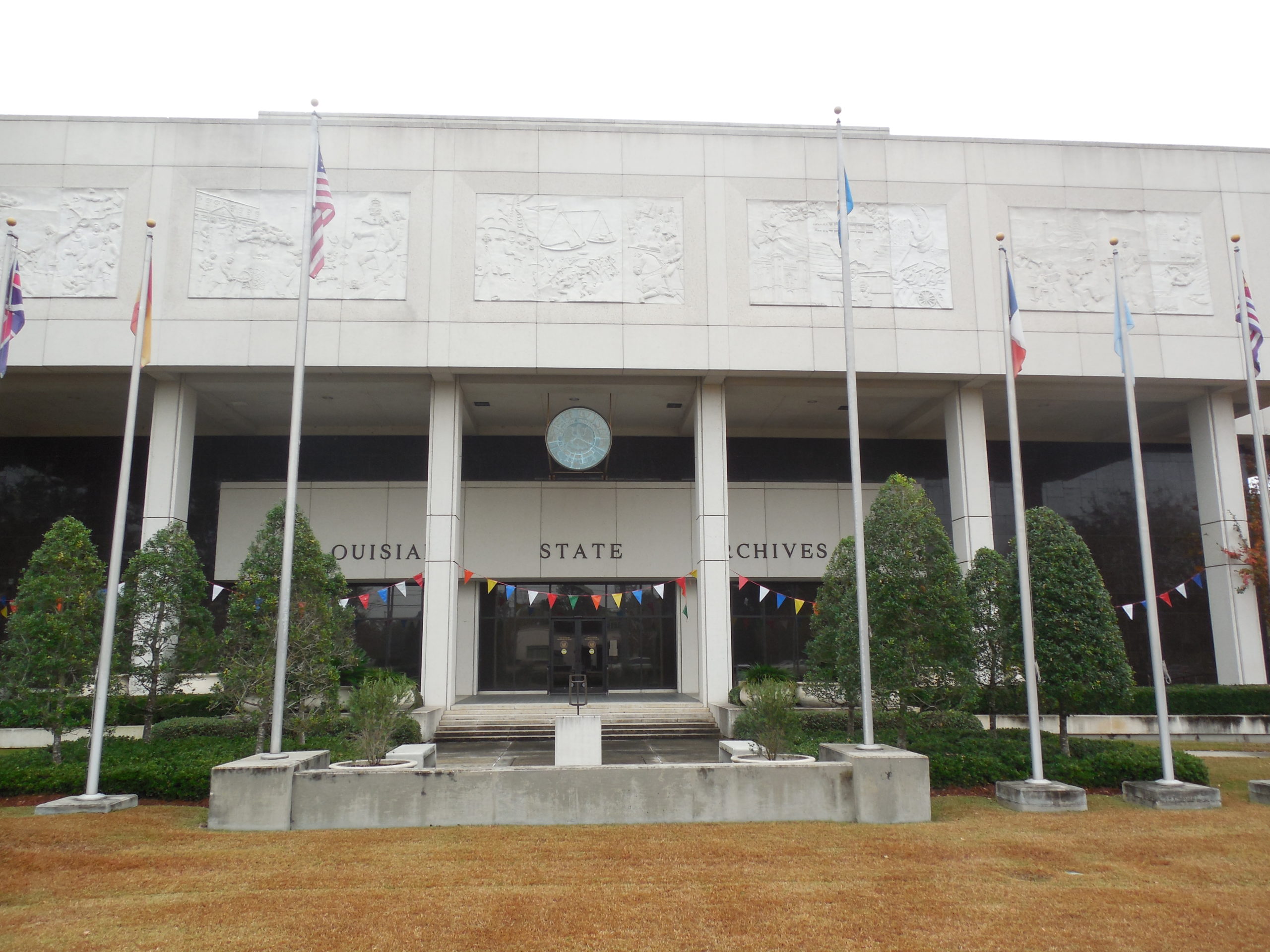 Louisiana
The photograph, above, was taken in 2013 when I visited the Archives for research.
Louisiana, USA, the Pelican State
French Colony 1699 – 1763; Spanish Colony 1764 – 1803; US Possession 1803;  Statehood: 1812
18th State; First US Census 1810; Capital City Baton Rouge
Some family names associated with Louisiana:
History & Overview. According to the History Channel Website:
Louisiana sits above the Gulf of Mexico at the mouth of the Mississippi River, bordered by Arkansas to the north, Mississippi to the east and Texas to the west. Originally colonized by the French during the 18th century, it became U.S. territory as part of the historic Louisiana Purchase in 1803, and was admitted to the union in 1812. Louisiana's capital city is Baton Rouge. It is also home to the historic port city New Orleans, which is famous for its unique cuisine, jazz and spectacular Mardi Gras festival.
Resources for Louisiana Research
Websites:
Blogs:
A few of my Blog Posts about Louisiana research:
Books for Louisiana Genealogical Research:
Kern, Gloria Lambert. Washington Parish, Louisiana Records: 1810 – 1898. Baker, Louisiana: Folk Finders, 1983.
Williams, E. Russ. Abstracts of Obituaries from the Minutes of the Magee's Creek Baptist Association (Mississippi and Louisiana), 1882 – 1924. Monroe, Louisiana: Privately printed, 1978. From the Louisiana Archives, Baton Rouge, LA.
Books from the Family History Library, Utah
Williams, Jr., E. Russ. History of Washington Parish, Louisiana 1798 – 1992. I. 1994. 976.311
Williams, Jr., Ernest Russ. A Potpourri of Historical Data concerning the Founding Families and Individuals of Washington Parish, Louisiana, 1798 – 1860. Monroe, LA: Northeast Louisiana University, 1990. 976.311