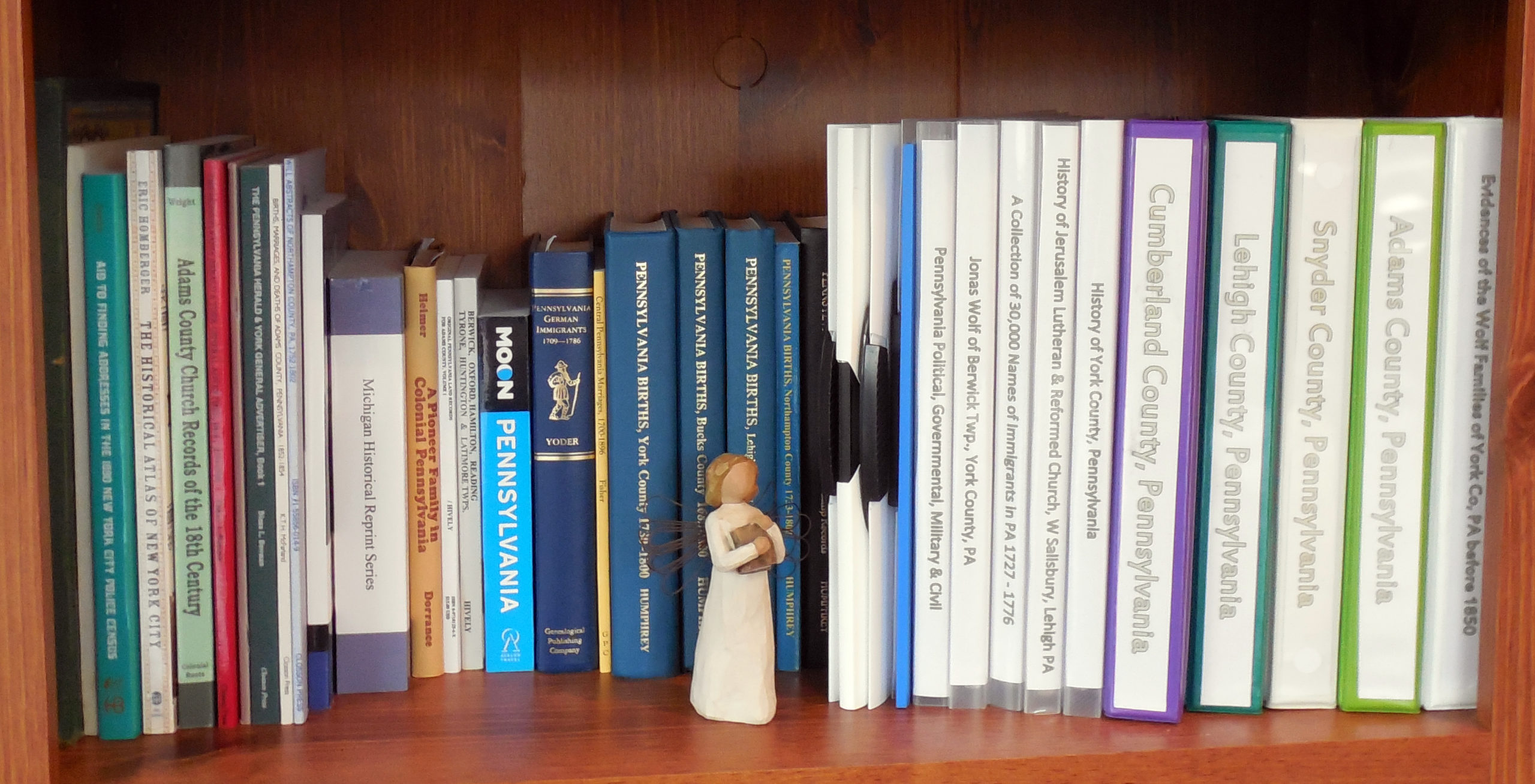 Martin Ritter c1718 Germany – 1789 PA
Martin Ritter, born in Germany, crossed the ocean with his brothers, arriving in Philadelphia, Pennsylvania on 11 September 1732. His wife was Anna Margaret. They were married c 1746. Their eight children were born in Pennsylvania.
Martin Ritter was the third of the four brothers. He and his wife, Anna Margaret, also lived in Lower Milford. They had eight children: Caspar, Anna Barbara, John Henry, Valentine, George Adam, Johannes Martin, Maria Magaretha and Johannes.[1]Martin Ritter was among the first members of the Western Salisbury Church, founded in 1741. He is buried in the church yard.[2]
[2]Hauser, James J. A History of Lehigh County Pennsylvania. Allentown, Pennsylvania: Jacks, 1902.
1 Martin Ritter b: Abt. 1718 in Germany, d: 1789 in Pennsylvania
…… + Anna Margaret Ritter m: Abt. 1746
…………2 Johann Caspar Ritter b: 20 June 1744 in Lehigh, PA
…………2 Anna Barbara Ritter b: 10 November 1749 in Lehigh, PA
…………2 John Henry Ritter b: 09 April 1751 in PA
…………2 Valentine Ritter b: 1748 in PA
…………2 George Adam Ritter b: 1756 in PA
…………2 Johanne Martin Ritter b: 1760 in PA
…………2 Maria Magaretha Ritter b: 1765 in PA
…………2 Johannes Ritter b: 1767 in PA
Selected Sources:
 Roberts, Stroudt, Krick, and Deitrich, THE HISTORY OF LEHIGH COUNTY,PENNSYLVANIA AND A GENEALOGICAL AND BIOGRAPHICAL RECORD OF IT'S FAMILIES; 1732-1914.
Passenger List; 1732; Port of Entry, Philadelphia, PA, 11 Sept., 1732, "The Pennsylvania Merchant", Sailed from Rotterdam; Obtained Photocopy from Pennsylvania Archives, P.O.Box 1026, Harrisburg, PA 17108-1026. This lists Martin, his brothers and sisters.