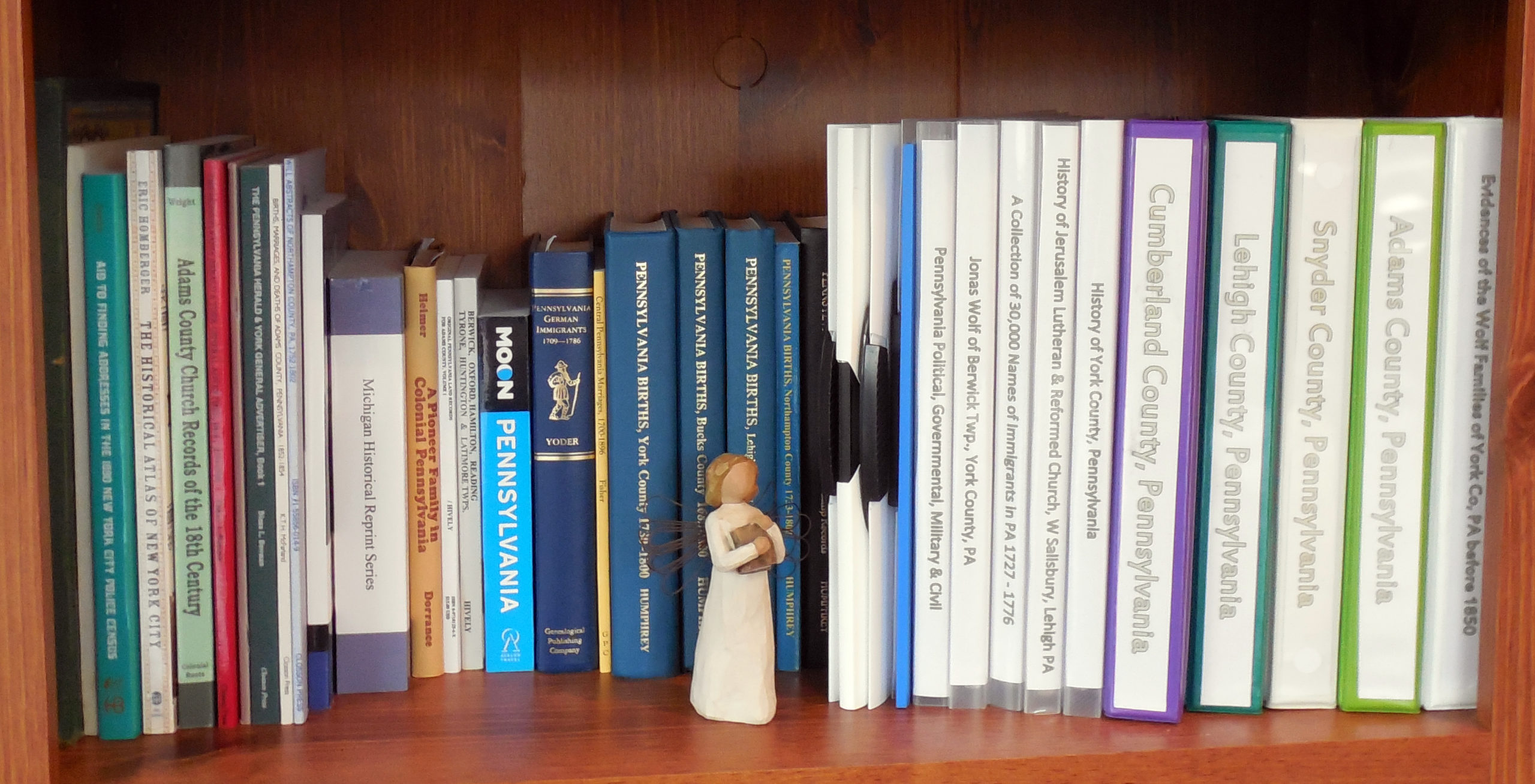 Mary I (Heffelfinger) Mark 1819 PA – 1904 OH
Mary Isabella (Heffelfinger) Mark was born 29 April 1819 in Cumberland, Pennsylvania. Her father was Philip Heffelfinger (1787 – 1877). Philip was married twice: Elizabeth Mowrey & Isabell McCormick. Isabell was the daughter of Elizabeth Mowrey. Mary Isabella married Abraham Mark. They had eight sons. Four of those sons served in the Civil War. Mary Isabella died 19 January 1904 In Ohio. She and her husband are buried in Reedsburg Cemetery, Ohio.
 Selected Sources:
Family Papers, Census Reports, Family Trees on the Mark and Heffelfinger families from files at the Genealogy Section Wayne County Library, Wooster, Ohio.
Genealogy of William Mark Family; 1844-1965; Compiled by Bertha Flickinger Mark.
Douglass, Ben. History of Wayne County, Ohio, from the Days of the Pioneers and First Settlers to the Present Time. R. Douglass, 1878.
Ohio Marriage Record; 1839; Wayne County Probate Court, Ohio, Volume 4A; Page 253. Abraham Mark & Mary Isabella Heffelfinger.
1840 U.S. Census, Wayne Co, OH; 1840; Vol.26; Page 8; Family History Center Microfilm #358211. Abraham Marks family in Wooster
1850 Federal Census, Wayne Co, Ohio; 1850; Extracted from Census by C. Arthur Phillips, Published by MicroPhoto Div., Wooster, OH,
R.929.377161Un3wp; Page 324; Wayne Co. Public Library, Wooster.
1860 U. S. Census, Wayne County, Ohio; 1860; ; Page 150, Lines 14-22; Family History Center Microfilm #805051. Abraham Marks Family in Congress Twp.
1870 Federal Census, Wayne Co, Ohio; 1870; Volume 60 (1-244); Page 19, Line 1 ; Family History Center Microfilm #552779. A. Mark Family in Congress Township.
15 March 1876 Warranty Deed from Wayne Co, OH.  from Co. Library.
1880 U. S. Census, Wayne Co, OH; 1880; Compiled by Richard G. Smith, 1979, Published by Wayne Co. Historical Society Genealogical Section, Wooster, OH; Page 179; The State Library of Ohio, Columbus, Ohio
Pension Report of John Marks; 1861-1883; National Archives Civil War Pension Report, Ohio Volunteers, Co.C. 16th Regiment, filed by mother, Isabelle Marks, Box #35175, Bundle #7.
1900 US Census.  Ohio, Wayne, Plain township, Roll T623 1332, SD 16, ED 156, Sheet 5B, Lines 79 – 80. Abraham M. Mark & mother
Wayne County Probate Record 11014 Vol. copy forn the Wayne Co Public Library Last Will & Testament of Isabella Marks, Reedsburg, Wayne, OHio.  April 7, 1899
Learn much more about this family in my book, 'The Mark Family Story'.